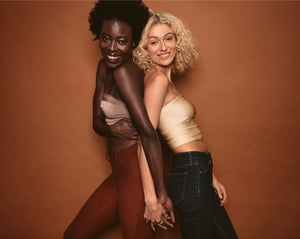 The word HAFTEY comes from the main language in Eritrea called Tigrinya. In Tigrinya, HAFTEY means "sister." Sisterhood is one of the best parts of being a woman. There's something magical that happens when women support other women. With HAFTEY, we hope to inspire and be inspired by women all around the world. This is a positive space that embraces uniqueness and the beauty that each woman possesses. No matter what race, age, religion or lifestyle. When you wear HAFTEY, we want you to feel PROUD because you have made the right choice! We also want you to feel CONFIDENT as you walk into any room like a beauty and a boss! Join us on this journey. Our mission is to build a tribe of women that call each other HAFTEY... a sisterhood!
HAFTEY, we are now connected!
BUILDING A SISTERHOOD, ONE HAFTEY AT A TIME!